Welcome to the homepage of the band of several names; Deckchair Poets, Zorbonauts, Jerusalem and Zebras Don't Smoke.
Their main differences being that Deckchair Poets material can contain humorous lyrics along with an anything-goes attitude to music, whilst Zorbonauts and Jerusalem lyrics tend to be of a serious nature, hence their music can contain a darker edge.
On the other hand Zebras Don't Smoke is a name used solely for albums wholly containing cover songs, so any kind of music can pop up under its banner.
It's interesting to note that these days the odd smile can be found in both Zorbonauts and Jerusalem's work, just as the weight of the World can sometimes be found plonked in a deckchair.
As the same select core of musician's play on all recordings there are many similar sounds echoing throughout these differently named bands releases.

The balmy bunch of dream weavers, who'll sprinkle diamonds in your ears and paint rainbows in your mind, can include any of the following celestial barrel rollers and Shangri-Larian astral plane loop the loopers...........................
Lynden Williams (vocals) - Jerusalem. The Britz. Oxoxox.
Ollie Hannifan (guitars & mandolin) - Mister Kanish. Synaesthesia. Mamma Mia.
Geoff Downes (keyboards) - Asia. Yes. The Buggles.
Nick D'Virgilio (drums & percussion) - Big Big Train. Spock's Beard. Genesis. Tears For Fears.
Dave Meros (bass guitar) - Spock's Beard. Pattern-Seeking Animals. Iron Butterfly. Eric Burdon.
Rachael Hawnt (vocals) - Cosmograf. The Beautiful Secret. Great Scott!
Bob Cooke (guitars & mandolin) - Jerusalem. Pussy. The Britz.
Will Wilde (harmonica) -Will Wilde Band. Dani Wilde Band.
Ashley Cutler (bass guitar) - The Beautiful Secret. Great Scott!
Rachel Hall (violin) - Stackridge. Judy Dyble. Big Big Train.
Ray Drury (keyboards & accordion) - The Producers. Teed Up. Rufus Stone.
Sue Lord (violin & viola) - The Stringbeans Quartet. Tracy Chapman Band.
Henk Leerink (bass guitar) - Not Dead Yet. The Britz. Call Me Blondie.
Of course the main core of the band, around which glittering satellites twinkle, are those much travelled, stardusted and interstellar good-vibrationist explorers:- Lynden, Ollie, Geoff, Nick, Dave and Rachael - long may their Huskies wheeze, their rockets zoom, and their footbaths bubble!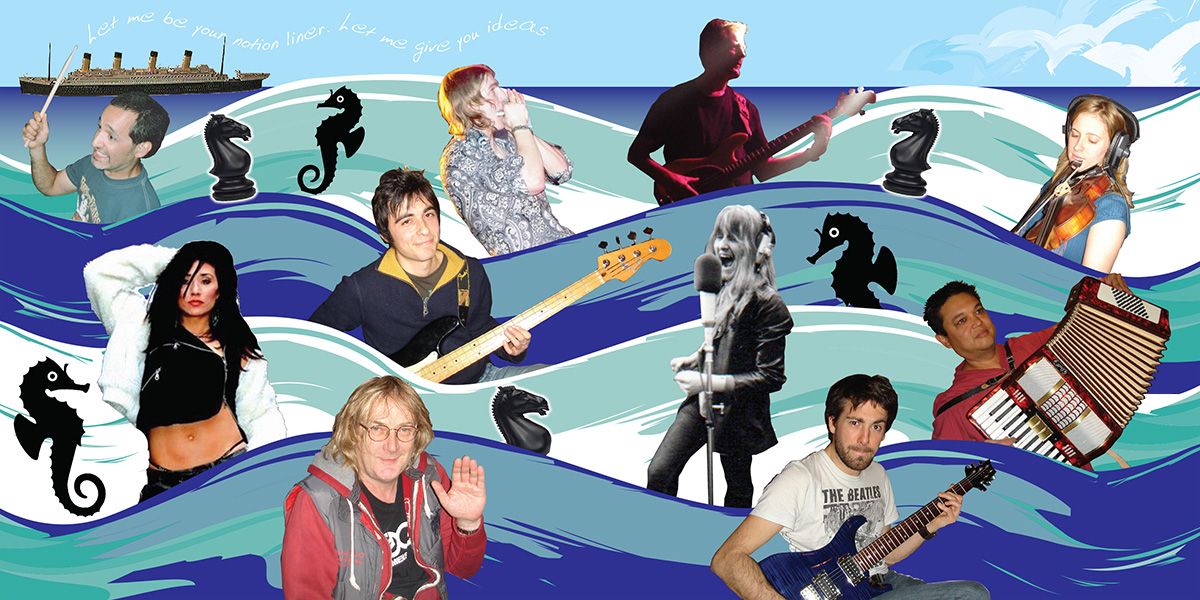 Sadly Bob Cooke lost the use of his left arm, after his second stroke, in 2010. Thankfully he still composes, via his music computer, and his forthcoming work will always find an outlet on future releases. Despite his absence Bob's playing still occasionally features as part of the band's output due to a backlog of unreleased material containing his musical input.
Another invaluable member of the recording team, who flings many an extra noise, and effect, into the musical mix, is studio owner, producer and engineer, Rob Aubrey, who's worked with Bob and Lynden since 1987. His ears are enshrined in music legend, but he did have to get them syringed out lately.

If you're reading this out of curiosity, then please listen to the music.
If you've heard the music then stay curious, you never know what might happen next!?
Now where's that tin of rainbow paint?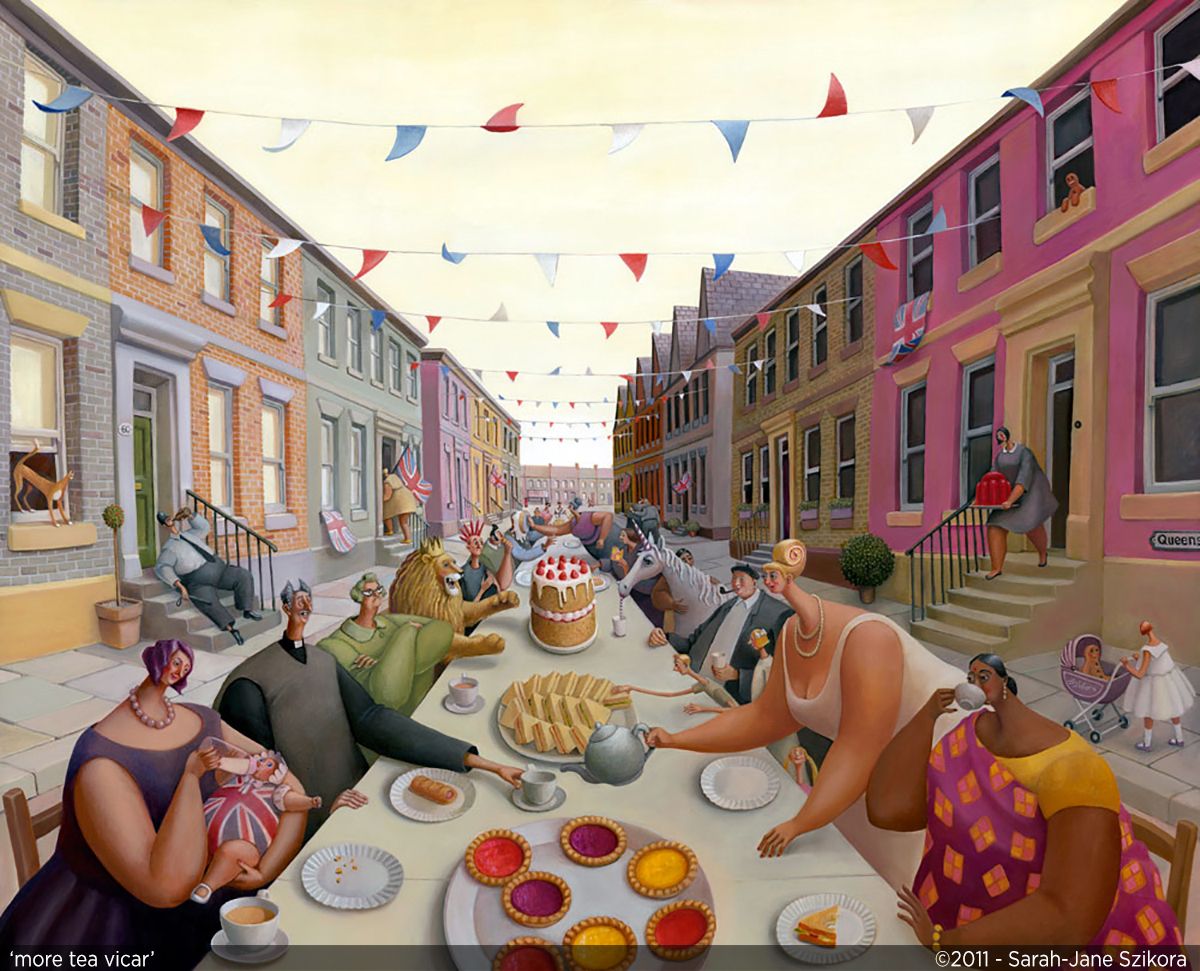 Ah! Sarah-Jane Szikora, artist in residence at Deckchair Palace, has obviously pinched it again!
Bring back that tin of rainbow paint you very naughty, but exceptionally lovely and talented, artistic genius!!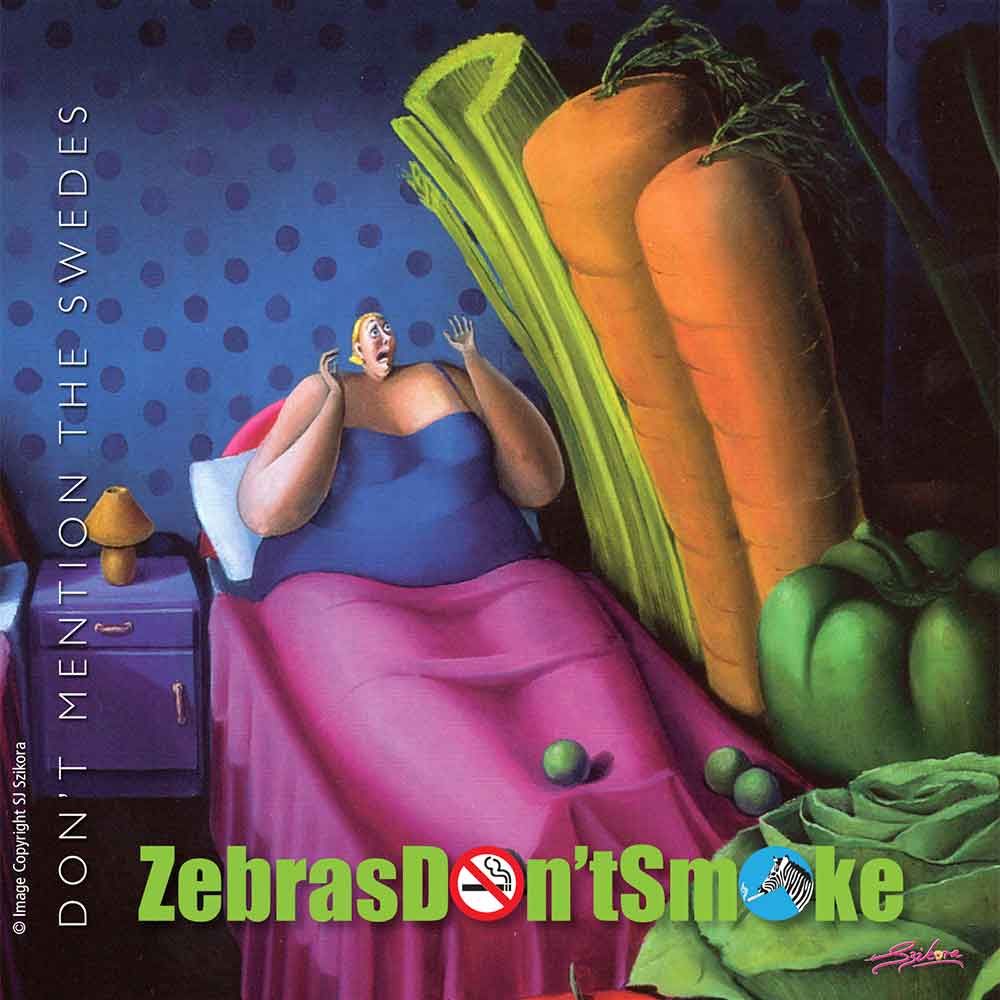 Zebras Don't Smoke
'Don't Mention The Swedes'
(Singsong Music: Singsong ???)

Digital Album
Released - TBA
Featuring:
Lynden Williams, Geoff Downes, Ollie Hannifan,
Nick D'Virgilio, Dave Meros, Rachael Hawnt & Rob Aubrey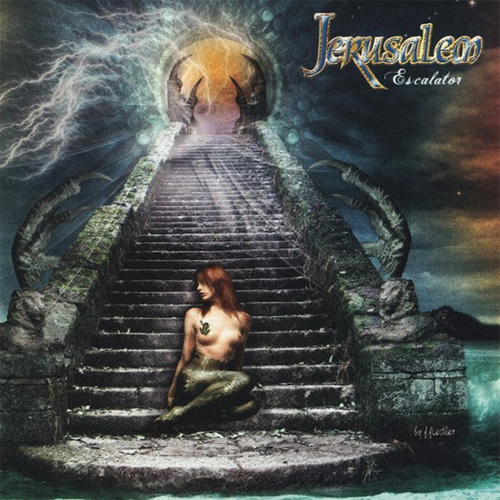 Jerusalam
'Escalator'
(Singsong Music: Singsong 114)
Digital Album
Released - 14th August 2020
Featuring:
Lynden Williams, Bob Cooke, Geoff Downes, Nick D'Virgilio and Dave Meros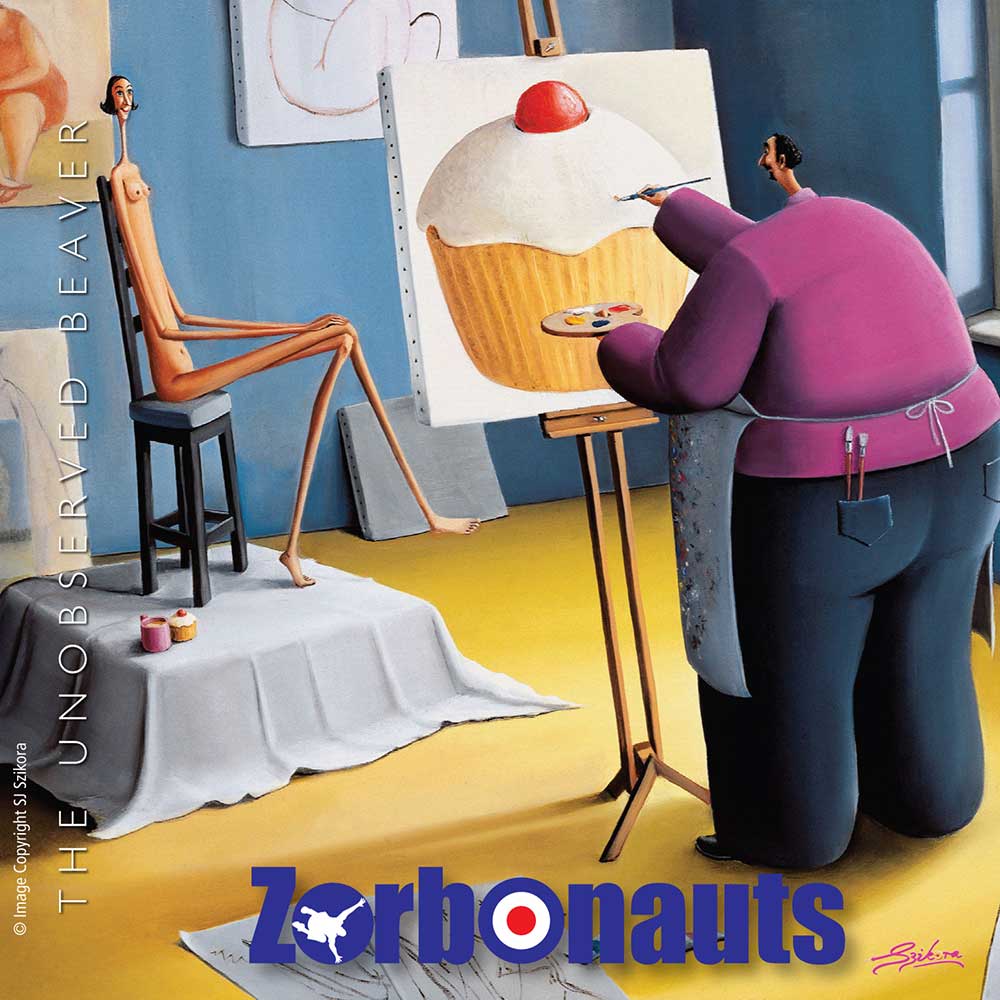 Zorbonauts
'The Unobserved Beaver'
(Singsong Music: Singsong 110)
Digital Album
Released - 24th July 2020
Featuring:
Lynden Williams, Geoff Downes, Ollie Hannifan,
Nick D'Virgilio, Dave Meros, Rachael Hawnt,
Bob Cooke, Rachel Hall & Rob Aubrey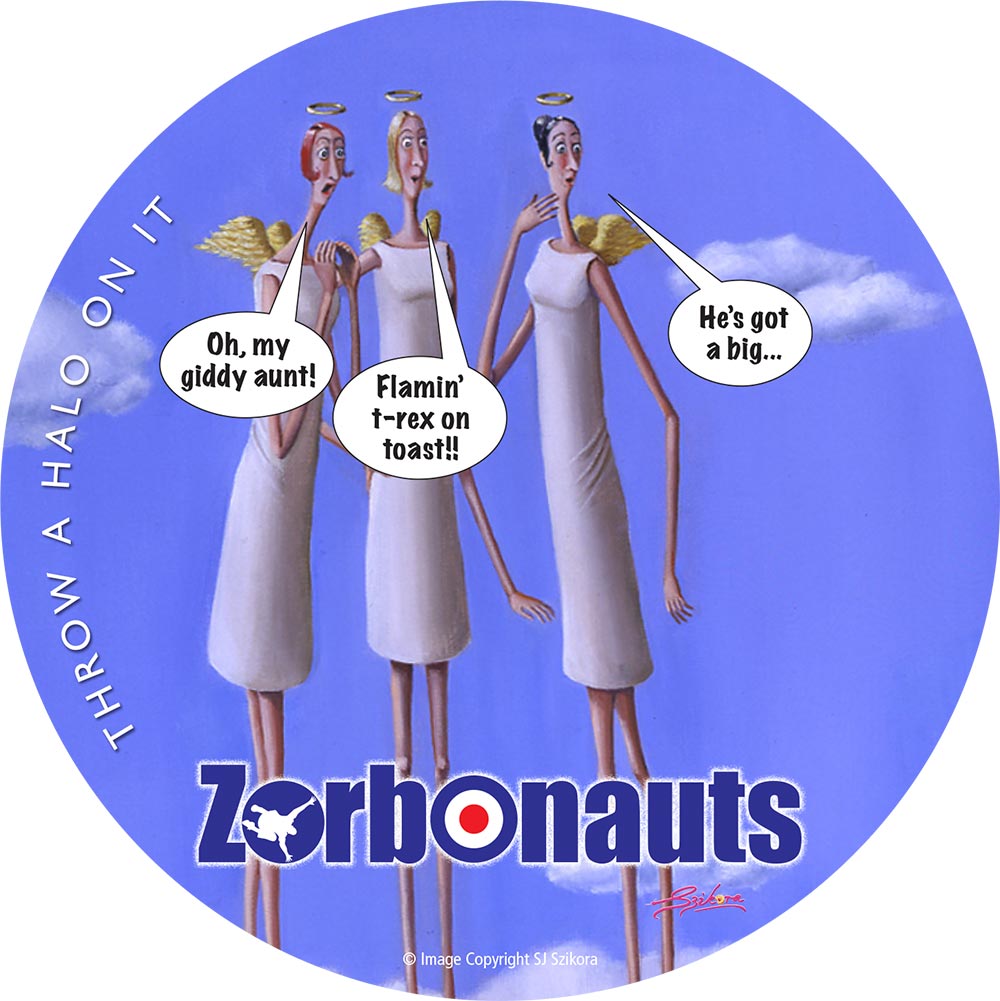 Zorbonauts
'Throw A Halo On It'
(Limited Edition - Private Print of 25 CD's)
Not For Retail

Manufactured - July 2020
Featuring:
Lynden Williams, Bob Cooke, Geoff Downes,
Nick D'Virgilio & Dave Meros,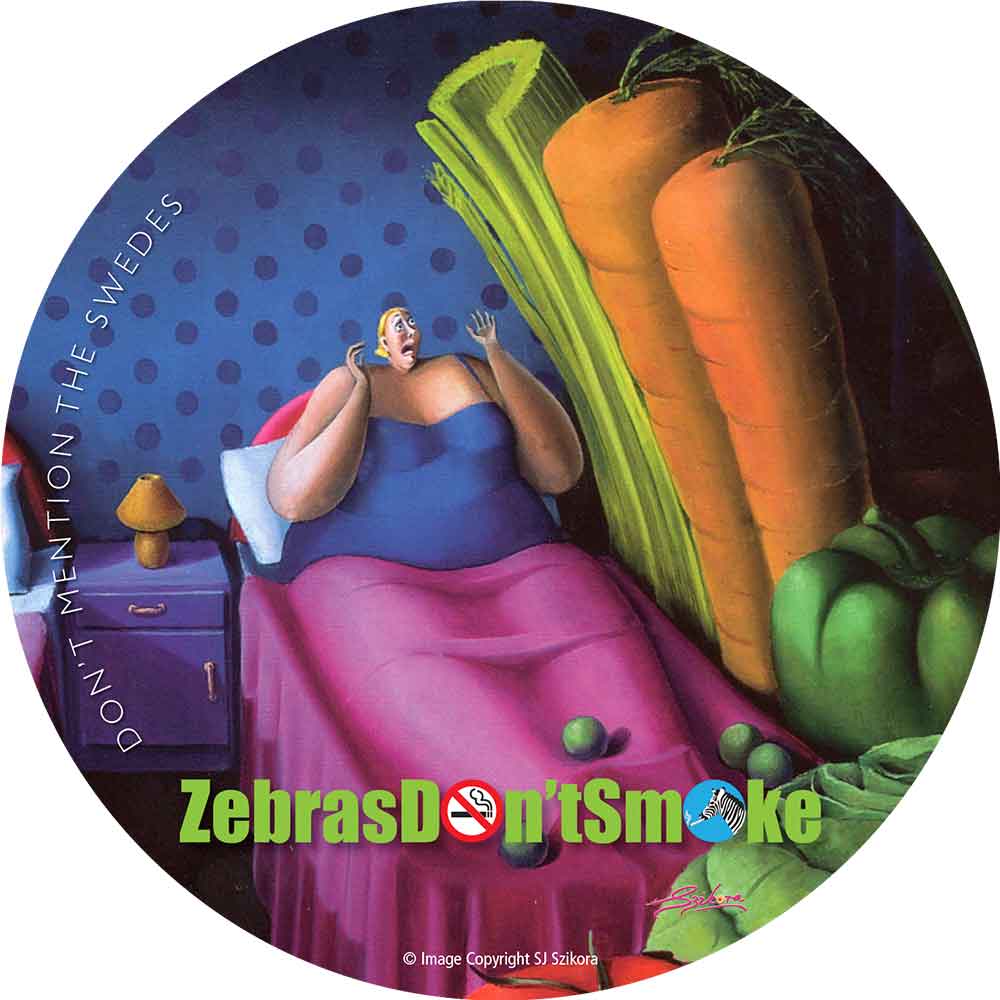 Zebras Don't Smoke
'Don't Mention The Swedes'
(Limited Edition - Private Print of 25 CD's)
Not For Retail
Manufactured - June 2020
Featuring:
Lynden Williams, Geoff Downes, Ollie Hannifan,
Nick D'Virgilio, Dave Meros, Rachael Hawnt & Rob Aubrey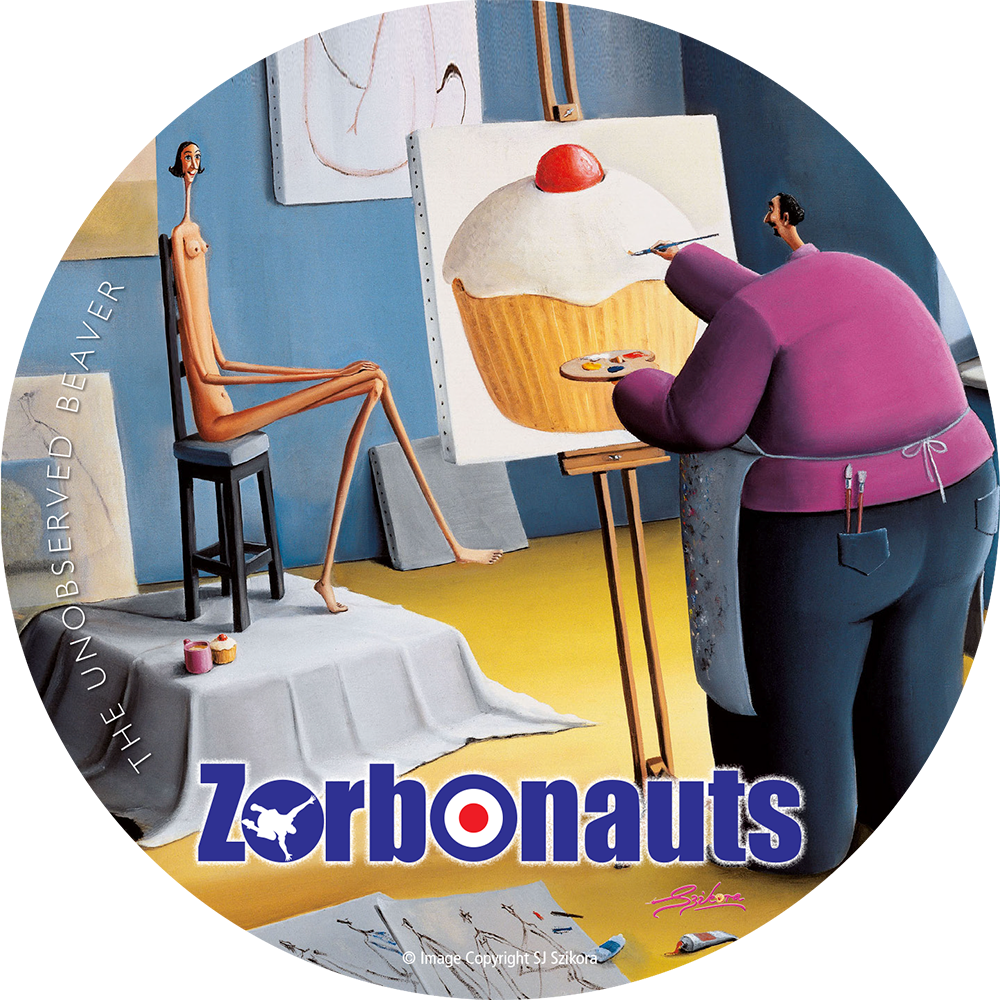 Zorbonauts
'The Unobserved Beaver'
(Limited Edition - Private Print of 25 CD's)
Not For Retail
Manufactured - June 2020
Featuring:
Lynden Williams, Geoff Downes, Ollie Hannifan,
Nick D'Virgilio, Dave Meros, Rachael Hawnt,
Bob Cooke, Rachel Hall & Rob Aubrey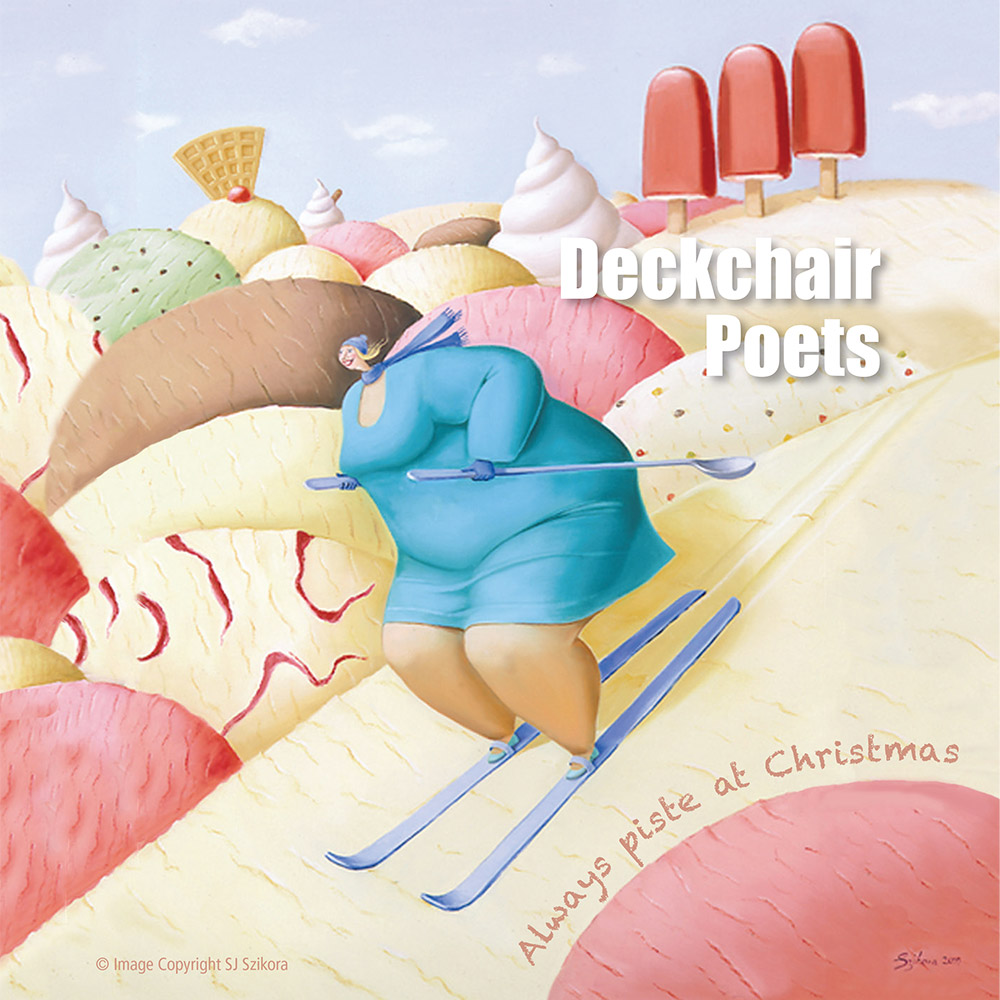 Deckchair Poets
'Always Piste At Christmas'
(Angel Air: SJPCD604)
Released - 1st November 2019
Featuring:
Lynden Williams, Geoff Downes, Ollie Hannifan,
Nick D'Virgilio, Dave Meros, Rachael Hawnt,
Bob Cooke, Rachel Hall, Will Wilde & Rob Aubrey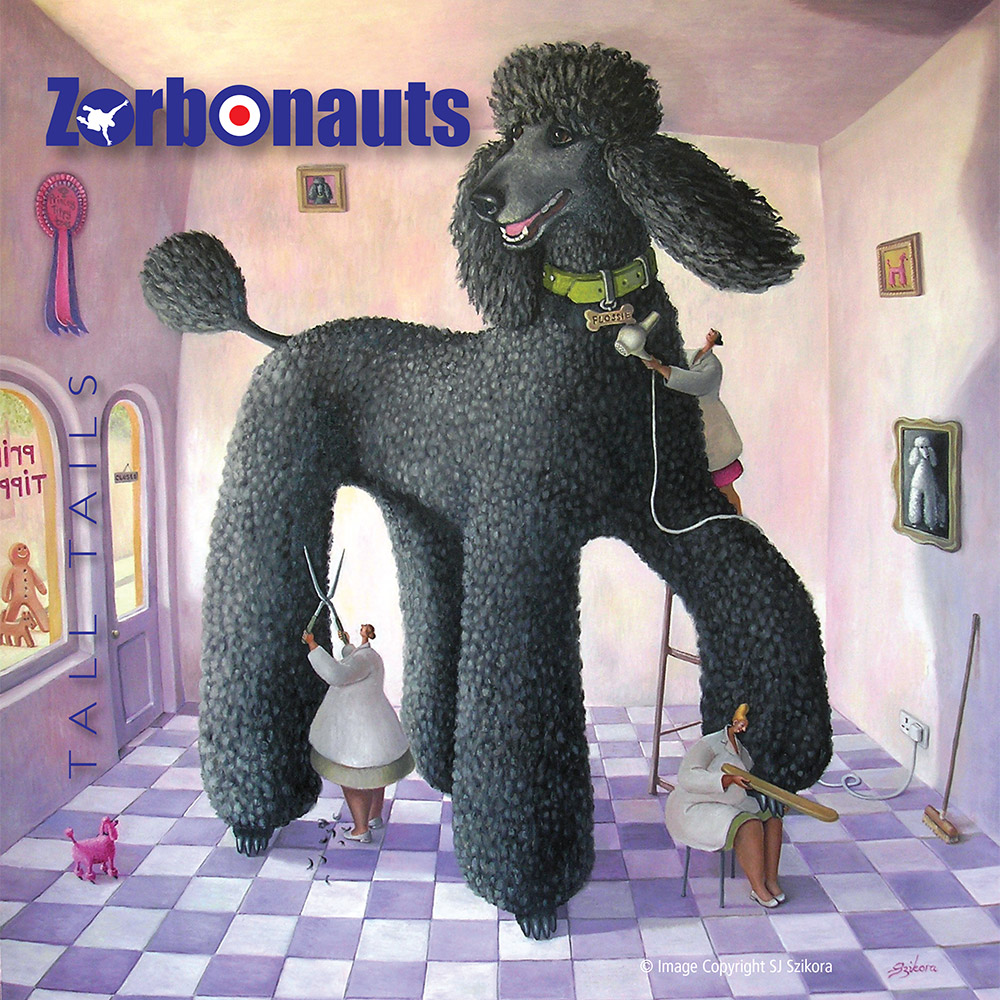 Zorbonauts
'Tall Tails'
(Angel Air: SJPCD603)
Released - 25th October 2019
Featuring:
Lynden Williams, Geoff Downes, Ollie Hannifan,
Nick D'Virgilio, Dave Meros, Rachael Hawnt,
Bob Cooke, Rachel Hall, Will Wilde & Rob Aubrey

Deckchair Poets
'A Bit Of Pottery'
(Angel Air: SJPCD517)
Released 22nd March 2019
Featuring:
Lynden Williams, Ollie Hannifan, Geoff Downes, Nick D'Virgilio, Dave Meros, Rachael Hawnt, Sue Lord & Rob Aubrey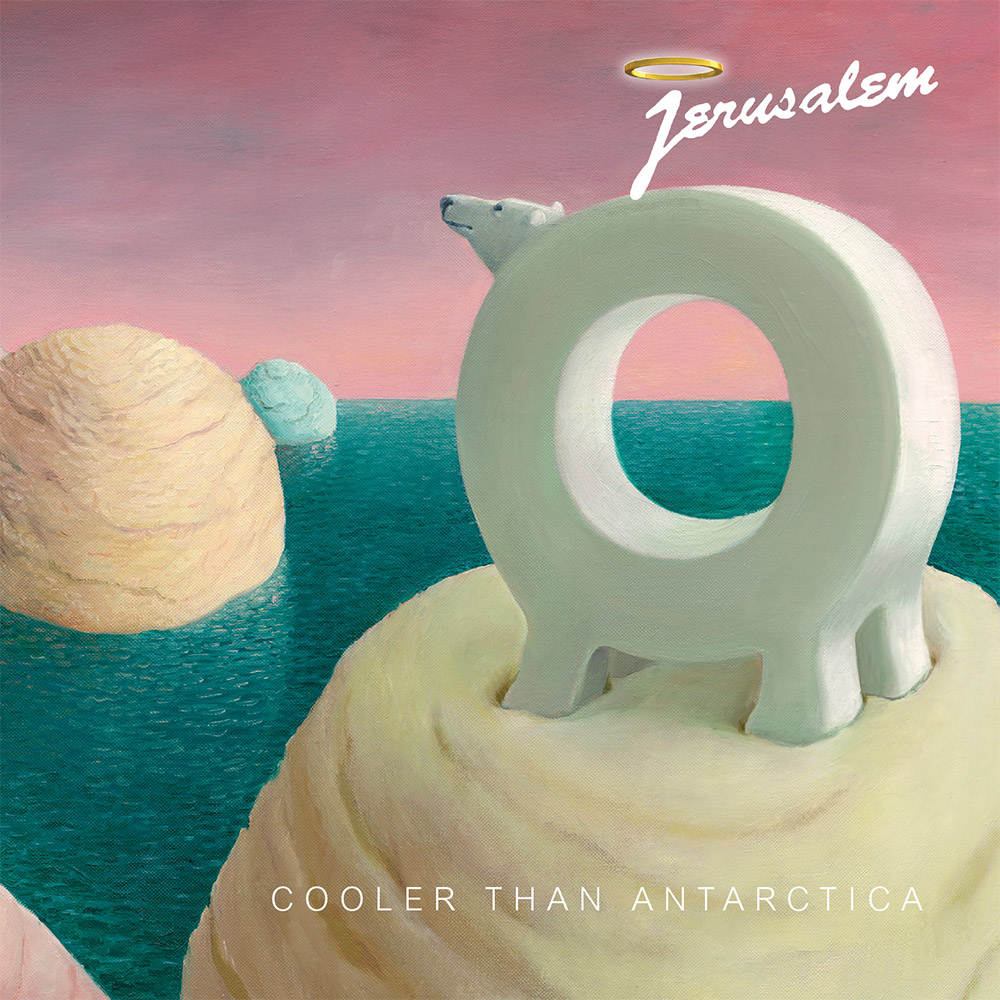 Jerusalem
'Cooler Than Antarctica'
(Angel Air: SJPCD487)
Released 24th June 2016
Featuring:
Lynden Williams, Ollie Hannifan, Nick D'Virgilio, Ashley Cutler, Ray Drury, Geoff Downes, Will Wilde, Rachael Hawnt, Dave Meros, Rachel Hall & Rob Aubrey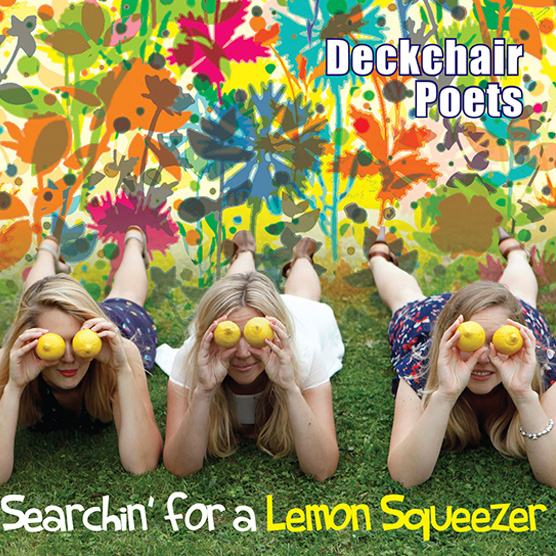 Deckchair Poets
'Searchin' For A Lemon Squeezer'
(Angel Air: SJPCD456)
Released 6th July 2015
Featuring:
Lynden Williams, Ollie Hannifan, Nick D'Virgilio, Ashley Cutler, Geoff Downes, Ray Drury, Rachael Hawnt, Will Wilde & Rob Aubrey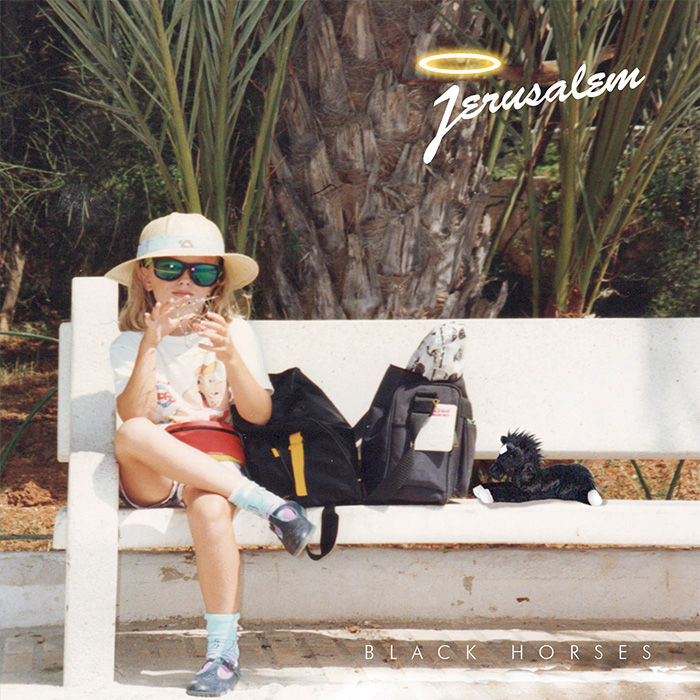 Jerusalam
'Black Horses'
(Angel Air: SJPCD447)
Released 3rd November 2014
Featuring:
Lynden Williams, Ollie Hannifan, Nick D'Virgilio, Ashley Cutler, Geoff Downes, Rachael Hawnt, Ray Drury, Rachel Hall, Will Wilde, Henk Leerink & Rob Aubrey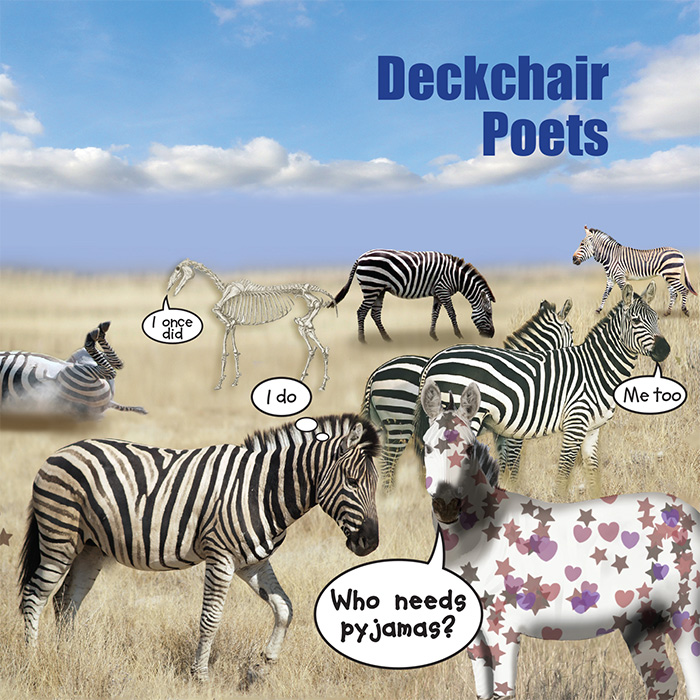 Deckchair Poets
'Who Needs Pyjamas?'
(Angel Air: SJPCD410)
Released 7th October 2013
Featuring:
Lynden Williams, Geoff Downes, Nick D'Virgilio, Ollie Hannifan, Ashley Cutler, Rachel Hall, Will Wilde, Rachael Hawnt & Rob Aubrey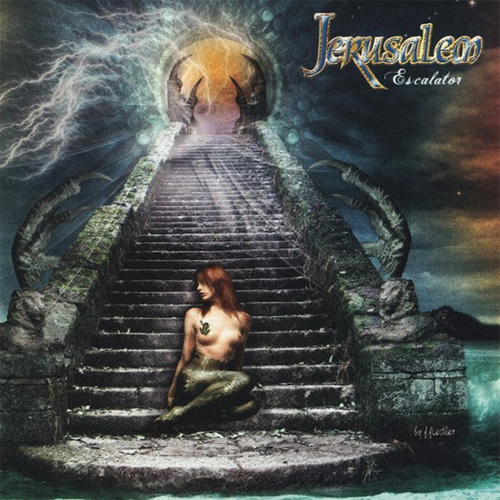 Jerusalam
'Escalator'
(Mausoleum: 251105)
Released 3rd July 2009
Featuring:
Lynden Williams, Bob Cooke, Geoff Downes, Nick D'Virgilio and Dave Meros